Audience (Traffic and Demographics)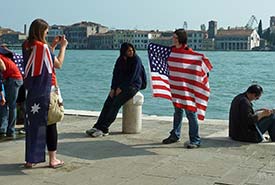 Our site reaches a global audience, with the largest native English-speaking segments coming from the U.S., the United Kingdom, Canada, and Australia.
Europe for Visitors averages more than 2.9 million visits and nearly 10.3 million editorial pageviews per year, according to Google Analytics. (We mention annual numbers because we focus on "evergreen" travel guides and cruise reviews, rather than perishable news items or blog posts. Scroll down to the "Average monthly traffic" section for monthly figures.
For a recent Google Analytics screen shot, see the image below:
In our first eight years of using Google Analytics, we've attracted nearly 23.2 million visits, almost 19 million unique visitors, and more than 82.5 million editorial pageviews--with most of that traffic being on "evergreen" destination articles and cruise reviews.
Our reader engagement is remarkable, with 12% of our pageviews coming from visits of 30+ minutes and 27% coming from visits of 20 or more pages.
Just as important, our audience is skewed toward educated, high-income adults, according to a Quantcast demographic analysis of users in the USA. We're especially strong in the "$150,000+" and "Grad School" categories. (See embedded Quantcast table below.)
January 4, 2007 - January 3, 2015
Source: Google Analytics
241,585 sessions (visits) per month

196,419 users (unique visitors) per month

860,156 pageviews per month
Engagement
Source: Google Analytics
12.06% of our pageviews come from visits of 30 minutes or more.

27.17% of our pageviews come from visits of 20+ pages.
U.S. Demographics
This embedded table, which is linked to Quantcast's servers, shows our U.S. audience data for the most recent Quantcast reporting period.
"Index" numbers reflect how Europeforvisitors.com ranks for various demographic segments, using a baseline of 100 for the overall U.S. Internet audience. (For example, our site has unusually high index numbers for "$150k+" incomes and "Grad School" education.)
---
---