Sex in Berlin
From: Berlin city guide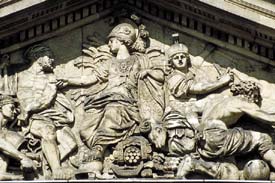 ABOVE: Sculptures find relief on a Berlin façade.
Sex and prostitution
World Sex Guide: Prostitution in Berlin
Read clients' reviews of commercial hanky-panky in Germany's Hauptstadt, get background on German brothels, and review the legal situation before you pay for passion with a Prussian.
Berlin Prostitution No Longer Immoral
The BBC News reports on changing social attitudes and government policy toward sex workers in Germany. But see below:
Factbook on Global Sexual Exploitation: Germany
"Germany is one the most popular destinations in Europe for women trafficked from Ukraine and Russia," says this report. According to another study, 75% of Germany's prostitutes are foreigners.
Museum
Beate Uhse Erotik-Museum
An article in the Washington Post describes a museum that "attracts a quarter of a million visitors annually and ranks among the city's top five museums by attendance." Also see the museum's German-language site.
---
---
---
---
---