Celebrity Cruises
From: European Cruise Guide
---
---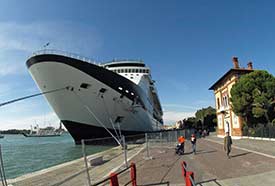 ABOVE: The Celebrity Summit in Venice. INSET BELOW: An inside stateroom on the Celebrity Constellation.

Celebrity Cruises is a "premium" sister of Royal Caribbean, with a target audience of adults from 35 to 60.
In 2014, Celebrity has six ships sailing in 30 countries from seven departure ports, with 102 ports of call--including 13 ports that it hasn't visited recently and five ports for the first time.
Families are welcome on most Celebrity cruises, and each ship has a staff of youth counselors to supervise activities for kids from 3 to 17.
Cruise line's Web site:
---
---
Inset photo copyright © Celebrity Cruises.