Costa Cruises
From: European Cruise Guide
---
---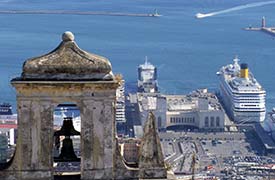 ABOVE: Costa Magica in Naples, Italy. INSET BELOW: Costa Victoria in Dubrovnik, and a close-up of a Costa ship's stacks and waterslide.

Costa Crociere is the largest cruise line in Europe, with a fleet of 16 ships. The company, a subsidiary of Carnival Cruises, is based in Genoa, Italy and welcomes English-speaking travelers aboard its multilingual voyages.
Unlike most cruise lines, Costa has a Mediterranean season that runs throughout the year. It also operates Northern European cruises in the warmer months. Several transatlantic crossings are sandwiched into the schedule, since a number of Costa ships operate in the Caribbean during the winter.

Costa Cruises attracts a younger crowd in Europe than many U.S. and British cruise lines do--especially during school breaks, when children and teens are likely to be on board. If you're looking for a chance to cruise with a middle-class crowd from the Continent, Costa should be on your shopping list. (We've cruised on Costa Magica, and we had a great time.)
Note: One of Costa's cooler features is the new "Mozzarella Gourmet Bar," featuring ship-made buffalo mozzarella cheese. The mozzarella will be used in pizzas on board Costa's ships.) See press release (PDF).
Cruise line's Web site:
Cruise review:
Costa Magica Western Mediterranean Cruise
Cruise videos:
Costa Victoria in Venice, Italy
---
---