Hapag-Lloyd Cruises
From: European Cruise Guide
---
---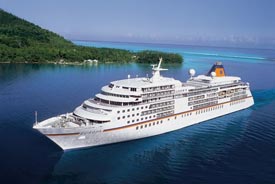 ABOVE: The MV Europa is the flagship of Hapag-Lloyd's fleet. INSET BELOW: MV Hanseatic in Bordeaux; and a double cabin on the Hanseatic's Amundsen Deck.

Hapag-Lloyd is a German shipping company that goes back to 1856, when Norddeutsche Lloyd inaugurated passenger and cargo service between Bremerhaven and New York. In 1970, NDL merged with Hamburg America Line (HAPAG), and today the names of two Hapag-Lloyd passenger ships--the Europa and Bremen--honor the great NDL liners that plied the North Atlantic route in the 1930s.

Hapag-Lloyd's current Europa was built in 1999. The ship, which accommodates 408 passengers, is the only cruise vessel with a rating of 5+ stars in Douglas Ward's Berlitz Ocean Cruising & Cruise Ships guide. Like the four other ships in Hapag-Lloyd's fleet (including the new Europa 2), it focuses on the luxury market.
In 2013, Hapag-Lloyd is offering a small number of international cruises that cater to both German- and English-speaking passengers. (During other voyages, German is the only language spoken unless at least 15 English-speaking guests are on board.)
Cruise line's Web site:
---
---