Holland America Line
From: European Cruise Guide
---
---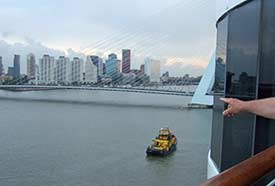 ABOVE: The ms Rotterdam arrives in Rotterdam, Netherlands after a cruise to Scandinavia. INSET BELOW: Eurodam, Maasdam, Prinsendam, and a lanai stateroom with access to a promenade deck.

Holland America Line transported some 850,000 immigrants to the United States in its heyday as a Dutch transatlantic steamship company. Service between Rotterdam and New York ended in 1971, and today HAL is an American-owned "premium cruise line" with 15 ships that serve more than 600,000 guests per year.

Holland America's Web site (see link below) has a cruise finder. For a quick ship-by-ship overview of the line's European cruise calendar, see the color-coded "Holland America Line May 2016 - April 2017: Sailing Schedule at a Glance" table in the company's online brochure. (You can click on the table to zoom in.)

Note for Rotterdam fans: HAL's Rotterdam (see our ms Rotterdam cruise review) now offers a large number of cruises, including roundtrip itineraries, from Rotterdam, Netherlands. The city of Rotterdam is as underrated as it is interesting, and the voyage from the city center to the North Sea takes the ship through one of the busiest ports in the world. Best of all, Rotterdam is only an hour from Amsterdam's Schiphol airport, so international connections are easy.
Cruise line's Web site:
Cruise review:
ms Rotterdam: Scandinavian cruise
---
---