MSC Cruises
From: European Cruise Guide
---
---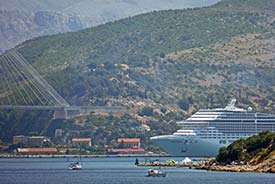 ABOVE: MSC Divina leaves Dubrovnik during an Eastern Mediterranean cruise.
MSC Crociere, a.k.a. MSC Cruises, is a subsidiary of Italy's Mediterranean Shipping Company. The line has a dozen ships, including several megaships that reportedly are the largest cruise vessels ever built for a European shipowner.

MSC offers Mediterranean cruises throughout most of the year, plus itineraries in Northern Europe during the spring and summer months.
Although MSC's officers are Italian and most passengers are from Continental Europe, the company has sales offices in a number of English-speaking countries (including the U.S. and the UK), and English is one of the five official languages spoken on board.
See the "Cruise review" link below for our personal account and photo gallery of a roundtrip cruise from Venice on MSC.
Cruise line's Web site:
Cruise review:
MSC Poesia Eastern Mediterranean Cruise
Cruise videos:
MSC Magnifica in Venice, Italy
---
---