Regent Seven Seas Cruises
From: European Cruise Guide
---
---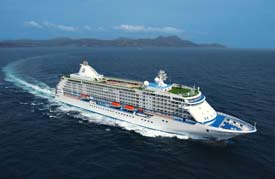 ABOVE: The Seven Seas Voyager. INSET BELOW: An aft view of Voyager, and a Voyager Suite.

Regent Seven Seas Cruises (formerly Radisson Seven Seas Cruises) is an upscale line that mostly serves the North American market but has travel agents on five continents. The line has three medium-sized ships: Seven Seas Voyager, Seven Seas Mariner, and Seven Seas Navigator, with passenger capacities of 490 to 700.

RSSC's 2012 European cruise calendar includes dozens of transatlantic, Mediterranean, and Northern European itineraries. The line's European cruising season runs from early April through late fall. Five transatlantic crossings (two in March, three in November) are also on the schedule for 2012.
Some Regent voyages have special themes, such as music, cooking workshops, art and design, and lectures. A "Club Mariner" youth program operates during the summer months.
Cruise line's Web site:
---
---