Seabourn Cruise Line
From: European Cruise Guide
---
---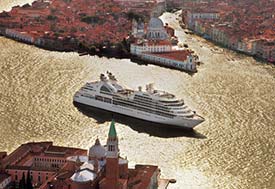 ABOVE: The Seabourn Odyssey in Venice. INSET BELOW: A balcony suite, a lounge with a panoramic view, and the Seabourn Spirit at sea.

Seabourn Cruise Line offers high-end luxury cruises on ships that are unusually intimate by today's standards. The yacht-like older vessels in the fleet--Seabourn Pride, Seabourn Spirit, and Seabourn Legend--carry only 208 passengers each. The line's latest ships--Seabourn Odyssey, Seabourn Sojourn, and Seabourn Quest--are also relatively small, with maximum capacities of 450 guests.

All Seabourn cabins are called "suites" and feature such amenities as walk-in closets, Bose stereos, stocked bars, and optional WiFi Internet access (which is available throughout the ship). Wines, spirits, and other drinks are included in Seabourn's cruise fares, and tipping is not required or expected.

Seabourn's 2014 European season features more than 100 cruises to 150 ports, with itineraries that range from seven to 21 days in length. As Venetophiles, we're especially intrigued by Seabourn Spirit's alternating 10- and 11-day roundtrip Adriatic cruises from Venice.
Note:
Seabourn has announced the sale of its three smaller ships to Windstar Cruises. (Seabourn Pride will switch to Windstar livery in 2014, and the other two vessels will change ownership in 2015.)

Movie buffs may recall watching Seabourn Legend crashing into the island of Saint Martin in the 1997 thriller Speed 2: Cruise Control, starring Sandra Bullock, Jason Patric, and Daniel Defoe.
Cruise line's Web site:
Cruise video:
Seabourn Spirit in Venice, Italy
---
---