Silversea Cruises
From: European Cruise Guide
---
---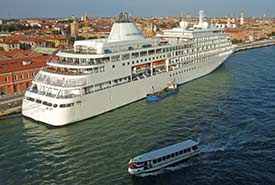 ABOVE: Silver Whisper at the San Basilio pier in Venice, Italy. INSET: A Champagne welcome, Silver Cloud, passengers at the railing in Menorca, and Silver Spirit in Ajaccio, Corsica.

Silversea Cruises is a small-ship luxury line with five vessels: The new 540-passenger Silver Spirit, the 382-passenger Silver Whisper and Silver Shadow, and the 296-passenger Silver Cloud and Silver Wind.
From spring through fall, at least three of Silversea's ships are cruising in Northern and Southern Europe, with visits to ports that range from the familiar (Amsterdam, Barcelona) to the offbeat (Aalborg, Mahon, Napflion, and St Malo). Fares include wines and other drinks, and tipping is neither expected nor encouraged.

In mid-2009, Silversea acquired an expedition ship, the former World Explorer II. The vessel was refitted and renamed the HSH Prince Albert II, with a goal of bringing a new level of luxury to adventure cruising in the Arctic, the Antarctic, and other out-of-the-way regions. (In late April of 2011, the ship was renamed Silver Explorer.)

Although Silversea is based in Florida and Monaco, its owners are Italian, and it attracts many passengers from Europe and other parts of the world. The line consistently ranks high in Condé Nast Travel and Travel + Leisure reader polls, making it an appealing choice for well-heeled cruisers with a taste for luxurious accommodations, fine food, and attentive service from a warm, friendly, and professional staff.
We've cruised with Silversea three times. For in-depth coverage of our voyages aboard Silver Whisper and (more recently) Silver Spirit, see the review links below.
Cruise line's Web site:
Cruise reviews:
Silver Spirit Cruise: Lisbon to Monte Carlo (2012)
Silver Whisper Mediterranean Cruise
Silver Whisper "Scotland's Tattoo" Cruise
Cruise video:
---
---
1st and 2nd inset photos courtesy of Silversea Cruises.