Star Clippers
From: European Cruise Guide
---
---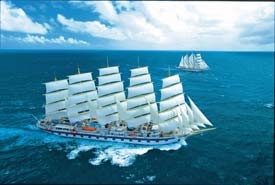 ABOVE: The five-masted Royal Clipper and the Star Clipper (in the background) are full-fledged sailing ships. INSET BELOW: A suite on the Royal Clipper and a couple below the bowsprit.

Star Clippers is an international cruise line with head offices in the U.S. and Monaco. The company has three sailing ships: the 170-guest Star Clipper and Star Flyer, and the five-masted, 227-passenger Royal Clipper (which was inspired by the squarerigger Preussen of 1902).

All three vessels offer "casual elegance" in cruising, with activities that range from leisurely dining to climbing the mast or sunbathing in a net under the bowsprit.
During 2012, Star Clippers is offering cruises of 4 to 11 nights in the Eastern Mediterranean, the Western Med, and Northern Europe. In spring and fall, Star Clippers will have lengthy repositioning cruises (including time under sail) between Europe and either Barbados or St. Maarten.
Cruise line's Web site:
---
---