Swan Hellenic Cruises
From: European Cruise Guide
---
---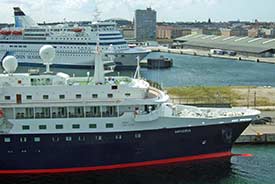 ABOVE: Swan Hellenic's Minerva (foreground) at the Langelinie quay in Copenhagen, Denmark. INSET BELOW: Minerva's Shackleton Bar.

Swan Hellenic is a long-established British boutique line that serves English-speaking cruisers of all nationalities. It emphasizes "discovery cruising," with guest lecturers and shore excursions that focus on history, art, and sightseeing. If you're the sort of traveler who's more likely to carry a Blue Guide than a Born to Shop book, Swan Hellenic is your sort of cruise line.
All ocean cruises are aboard MV Minerva, a 12,500-ton, 350-passenger vessel that entered service in 1996 and underwent a £1,000,000 upgrade in 2011.
Minerva has a capacity of 350 passengers and is decorated in English "country house" style. Accommodations range from standard cabins to deluxe suites with balconies. Two cabins and two suites are equipped for disabled passengers.
In a typical year, Swan Hellenic's European itineraries include the British Isles, the Mediterranean, the Baltic, the Adriatic, the Aegean, and a handful of unusual destinations such as the Azores or the Faroe Islands.
Cruise line's Web site:
---
---
Inset photo copyright © Swan Hellenic. Used by permission.