Tauck World Discovery
From: European Cruise Guide
---
---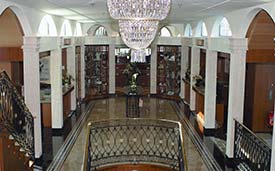 ABOVE: The atrium of the Swiss Emerald. INSET BELOW: The Swiss Emerald underway, and the Lido Lounge.

Tauck World Discovery of Norwalk, Connecticut,USA has been an upscale operator of tours, safaris, and cruise charters for more than 80 years.
A few years ago, it launched its own river-cruising line in Europe. Tauck's European fleet has grown to four sister ships: Swiss Emerald, Swiss Sapphire, Swiss Jewel, and Treasures, which carry up to 118 passengers each in accommodations that range from staterooms to luxury suites with marble baths and full-size tubs.
Tauck's 2013 cruise itineraries cover much of Western and Central Europe, from France and the Benelux countries to the Black Sea. Cruise fares include shore excursions, dining experiences on land, and all tips to the ship's staff and local guides.
Cruise line's Web site:
---
---