Thomson Cruises
From: European Cruise Guide
---
---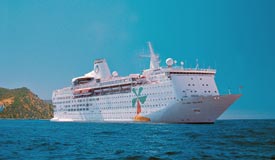 ABOVE: The Island Escape carries 1,536 passengers in 768 cabins. The ship was built in 1982 as the cruise ferry Scandinavia and received a major overhaul several years ago.
Thomson Cruises belongs to a British travel packager that operates an in-house cruise line with chartered vessels. It acquired Island Cruises in 2009, and that company's Island Escape is now part of the Thomson Fleet.
Thomson is operating five ships in 2015, with itineraries in the the Western Mediterranean, the Eastern Mediterranean, and the Black Sea. Some of Thomson's cruises depart from ports in the UK.
Cruise line's Web site:
---
---
Photo copyright © Island Cruises.