Windstar Cruises
From: European Cruise Guide
---
---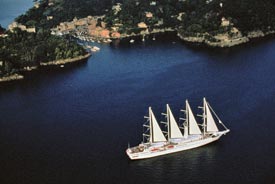 ABOVE: The Wind Star in Portofino, Italy. INSET BELOW: A stateroom and an arrival by local tender on the Wind Surf.

Windstar Cruises focuses on the premium end of the cruise market with three unique "motor-sail-yachts": the 308-passenger Wind Surf (originally the Club Med I) and the more intimate Wind Star and Wind Spirit, which carry 148 guests each. Each vessel combines the atmosphere of a large sailing yacht with the comforts of a luxury cruise ship.

Windstar recently purchased three small, luxurious motorships from Seabourn Cruises (the Seabourn Pride, Spirit, and Legend). Seabourn Pride joined Windstar's fleet as the Star Pride last year, 2014, and the other two ships will carry the Windstar flag in 2015.
For a firsthand report on cruising with Windstar, see the "Cruise Review" link below:
Cruise line's Web site:
Cruise review:
---
---
Top and 1st inset photos copyright © Windstar Cruises.