L'Austral Cruise Photos
From: L'Austral cruise review
Gastronomy (6)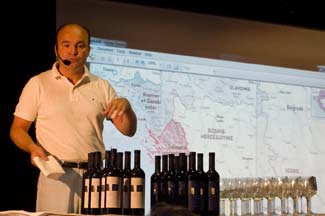 Our gastronomic-themed cruise included three wine tastings and lectures. The first was a "Wine Degustation" featuring the top Croatian wines. It was presented by Olivier Poussier, who was voted the "World's Best Wine Steward" in 2000. M. Poussier is the chef sommelier of the Maison Lenôtre in Paris, and he has two Web sites for wine enthusiasts: one in French, and the other in English.
---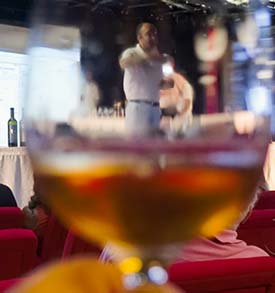 After introducing each wine, M. Poussier dispatched waiters into the audience with glasses and bottles. (Passengers had been seated in alternating rows--e.g., 1, 3, 5, 7, and 9--with empty rows between, making it easier for the waiters to distribute glasses, pour wine, and collect undrunk wine.)
M. Poussier was a lively speaker in both French and English, and one thing he said was as simple and unpretentious as it was memorable:
"The job of the sommelier is to serve the right wine, at the right temperature."
---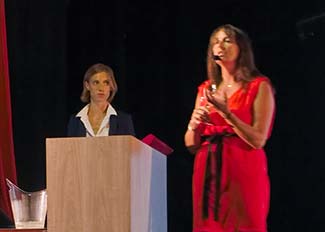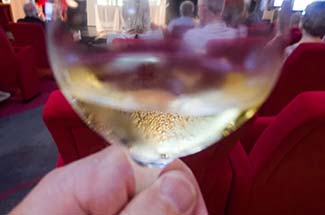 The other wine expert during our cruise was Karine Valentin, a French journalist (and the daughter of a vigneron) who writes about wine. She gave two lectures, each with tastings: "Introduction to Dégustation" and "Great Wines of the Mediterranean."
In the top photo, you'll notice a plastic bucket on the left. Mlle. Valentine used this frequently as a cuspidor. "Spitting is good," she told the audience. "You should spit." Fortunately for L'Austral's housekeeping staff, no one took her advice during the tasting. (She had a spit bucket; her audience didn't.)

---
---
---
---
---
"Best of the Web"
- Forbes and The Washington Post

Click or tap photos for cruise reviews:
---
Also see:

Venice for Cruisers
Getting to or from your ship, Venice hotels for cruisers, the Marittima and San Basilio piers, and more.

Rome for Cruisers
Trains to and from the port, plus a 35-page Civitavecchia city and port guide.
---
From Durant and Cheryl Imboden:

About Our Sites

Privacy and Cookies
---
Advertisement: