MS Casanova
By Durant Imboden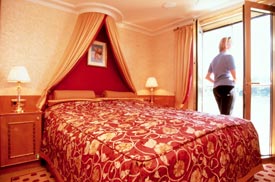 ABOVE: A queen stateroom on the Verdi or main deck. (The wide-angle lens makes the cabin look bigger than it is, but Casanova's staterooms do make efficient use of a riverboat's limited space.)
Staterooms
Casanova's staterooms come in three flavors:
Queen cabins. In these 16 staterooms, the queen-size beds have separate mattresses, each with its own duvet when the stewardess removes the bedspread at night. This means you can snuggle or maintain separation, depending on whom you're traveling with.
Twin cabins. These 30 cabins have twin beds on opposite walls. One berth converts into a sofa during the day.
Junior suites. There are just two junior suites, both on the lower or Rialto deck. They have queen-size beds and are slightly larger than the standard queen and twin cabins.
Rooms on the Verdi or upper deck have cleverly designed French doors overlooking the water. Open the left half, and you have a floor-to-ceiling screen to keep bugs at bay. Open the right side, and you can lean out to take pictures, check the passing landscape in more detail, or get a feel for the weather.
Cabins on the Rialto or lower deck have fixed picture windows.
All staterooms are attractively decorated with generous expanses of wood paneling, drapes, pictures on the walls, etc. Casanova's designers gave a lot of attention to details, as the inset photo of a ceiling light will show. The gold-trim motif is also used on the custom cabin furniture, which includes built-in closets, nightstands with storage space, and a desk with minibar. (I did notice one small oversight: Casanova's duvets are filled with a thin polyester batting instead of down.)
The bathrooms are extremely well-designed, with luxury touches such as glass shower enclosures, marble and ceramic walls, wooden toilet seats, brass faucets, and sinks that have marble countertops in a beautiful brown-red marble above a wooden storage cabinet and shelves. There's a retractable clothesline in the shower stall, and you'll find plenty of racks and hooks for towels and dressing gowns. (Your stewardess will supply bathrobes on request.)
Finally, the TV in each cabin has a good assortment of channels--mostly in German, but with BBC World and CNN to keep you in touch with what's happening back home. Casanova also has closed-circuit movies several times a day in both German and English.
Next page: Dining on the Casanova
---
---
---
Photo copyright © Peter Deilmann Reederei. Used by permission.
"Best of the Web"
- Forbes and The Washington Post

Click or tap photos for cruise reviews:
---
Also see:

Venice for Cruisers
Getting to or from your ship, Venice hotels for cruisers, the Marittima and San Basilio piers, and more.

Rome for Cruisers
Trains to and from the port, plus a 35-page Civitavecchia city and port guide.
---
From Durant and Cheryl Imboden:

About Our Sites

Privacy and Cookies
---
Advertisement: