Costa Magica Cruise Review
Page 10
Continued from page 9
By Durant Imboden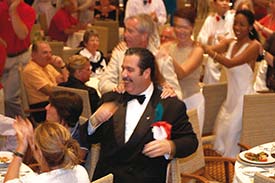 ABOVE: A mâitre d' leads a conga line at dinner on Costa Magica.
Is a Costa cruise right for you?
| | |
| --- | --- |
| A Costa cruise may be right for you if... | A Costa cruise may not be right for you if... |
| You'd like to enjoy a European ambiance on shore and on the ship. | When the ship sails, you'd rather leave Europe behind on the pier. |
| You put a premium on value. | You value premium brands. |
| Your idea of a "small ship" is a vessel with 2,000 passengers. | Your idea of a "small ship" is a megayacht with 200 passengers. |
| You charge costume jewelry at Swarovski. | You run a tab at Van Cleef & Arpels. |
| You love pasta with pesto and cruising with multi-generation families. | You think "pesto" is Italian for "child." |
| You like paintings of naked ladies in the public areas of cruise ships. | You think paintings of naked ladies belong in art museums and medical textbooks. |
| You prefer to drink espresso with sugar in little ceramic cups. | You prefer to drink espresso with milk and hazelnut syrup in 20-ounce cardboard containers. |
| You enjoy (or can tolerate) the occasional conga line in the dining room. | You think people who dance in conga lines should be banished to the Congo. |
But seriously...

No cruise line is right for everyone, and Costa is best suited to travelers who welcome the chance to cruise with all age groups and different nationalities.
On a popular English-language cruise forum, we saw a complaint by an American who was furious because Costa's restaurant didn't offer "surf and turf" (lobster and steak, served on the same platter). Another former passenger was unhappy because announcements over the PA system were in five or six languages, not just in English.

Amazingly enough, some non-European passengers complain about not being hustled by bar staff. (Continental bar and café customers prefer not to be nagged into buying refills, so Costa's bartenders and bar waiters tend to be less aggressive than their counterparts on some American and British lines.)
Still, we like to think that xenophobia and chronic cluelessness aren't endemic among our fellow Anglophones. We met a number of native English speakers on Costa Magica, and they all seemed happy with the ship and the cruise.
Our advice:

If you like Europe, don't mind families, and aren't fazed by cultural differences, you're likely to have a good time on a Costa cruise. But if your idea of a cruise is a gated community at sea, you might prefer a line that caters to travelers of your own nationality and age group.
Next page: Costa Magica Western Mediterran cruise photos
---
---
---
Top photo copyright © Costa Cruises.
"Best of the Web"
- Forbes and The Washington Post

Click or tap photos for cruise reviews:
---
Also see:

Venice for Cruisers
Getting to or from your ship, Venice hotels for cruisers, the Marittima and San Basilio piers, and more.

Rome for Cruisers
Trains to and from the port, plus a 35-page Civitavecchia city and port guide.
---
From Durant and Cheryl Imboden:

About Our Sites

Privacy and Cookies
---
Advertisement: