La Renaissance:
Day-by-Day Cruise Diary
From: A Barge Cruise in France
By Durant Imboden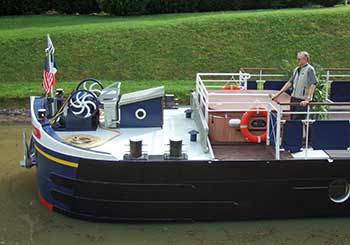 Cruise Photo Diary
In the following pages, we describe a six-night cruise from Rogny-les-Sept-écluses (on the Canal de Briare, in Western Burgundy) to the Seine river town of Saint-Mammès in the Upper Loire Valley. The cruise took place in early May, 2008 on La Renaissance, the new flagship of Go Barging/European Waterways Ltd.

Our cruise was from south to north, with a descent through several dozen locks over a total distance of about 103 km or 64 miles. Every other week, the cruise goes the opposite direction, climbing through the locks from Saint-Mammès to Rogny-les-Sept-écluses. Depending on the direction of the cruise, the season, and occasional changes to the barge's schedule of shore excursions, your itinerary may vary from the one described in this annotated photo diary.
For more information on the barge and European Waterways, also see our eight-page La Renaissance cruise review.
"Best of the Web"
- Forbes and The Washington Post

Click or tap photos for cruise reviews:
---
Also see:

Venice for Cruisers
Getting to or from your ship, Venice hotels for cruisers, the Marittima and San Basilio piers, and more.

Rome for Cruisers
Trains to and from the port, plus a 35-page Civitavecchia city and port guide.
---
From Durant and Cheryl Imboden:

About Our Sites

Privacy and Cookies
---
Advertisement: