MSC Divina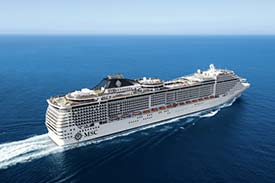 ABOVE: A naval architect's rendering of MSC Divina at sea.
March, 2012
In June, 2012, MSC's Eastern Mediterrean route from Venice is being taken over by MSC Divina, a brand-new addition to the MSC fleet.
The new ship is offering the same 7-night roundtrip itinerary from Venice to Bari, Katakolon, Izmir, Istanbul, and Dubrovnik that we wrote about in our MSC Poesia cruise review.
MSC Divina is larger than its predecessors on the route (MSC Poesia and MSC Magnifica), with features such as an expanded "MSC Yacht Club" for cruisers who want more exclusivity and privacy. Otherwise, the MSC Divina cruising experience shouldn't be too different what we described in our MSC Poesia review--at least for rank-and-file passengers who aren't paying a premium for such amenities as private lounges, butlers, and concierge service.
Specifications:
Length: 333.3 meters (1,092 feet)

Beam: 38 meters (125 feet)

Draft: 8.2 meters (27 feet)

Tonnage: 137,932 GRT

Speed: 21 knots

Cabins: 1,739

Passengers: 3,274
Related Web Link:
MSC Divina
This page is on the official MSC Cruises Web site.
---
---
---