River Baroness Cruise Photos
From: Uniworld River Baroness cruise review
Day 1: Embarkation and Departure from Paris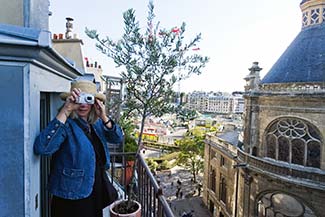 Our day of departure from Paris began on Rue Montmartre, where we'd spent the previous nine days in a sixth-floor studio apartment facing the church of St-Eustache in the 1st arrondissement.
---
In this short video, which was taken for a review of a travel jacket, you can see the church and hear its bells.
---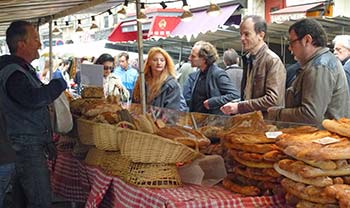 After breakfast, we left the apartment and spent a few minutes at the twice-weekly street market in Rue Montmartre, right outside our building.
---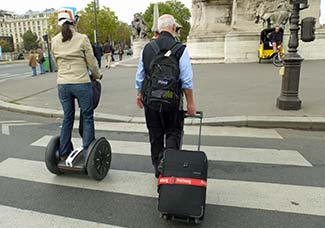 Next, we followed the Seine to the quai André Citroën in the 15th Arrondissement (two bridges southwest of the Eiffel Tower), where River Baroness was moored. The walk took about two hours, since we weren't in a hurry and stopped for photos along the way.
---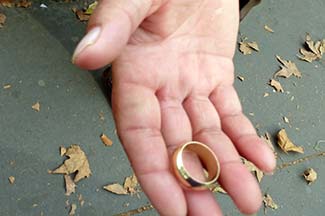 During our walk, we were stopped three times by con artists who tried to sell us fake gold rings that they pretended to have found on the sidewalk. (See our Paris for Visitors article on the Paris Gold Ring Scam.)
We knew better than to fall for the con, but a fellow passenger on River Baroness later confessed that she'd paid 10 euros to a ring scammer.

---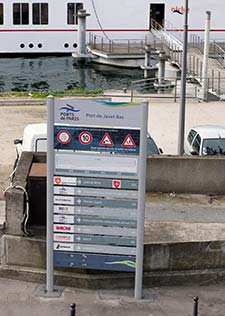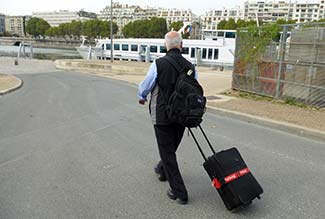 We reached the Quai André Citroën in the Port de Javel Bas (which is on the Seine, next to the Parc André Citroën) just after 12 p.m.
---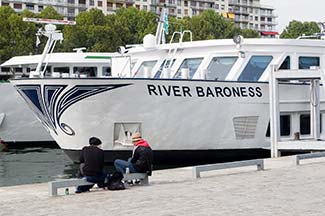 River Baroness was moored with another ship, CroisiEurope's Renoir, tied up alongside.

---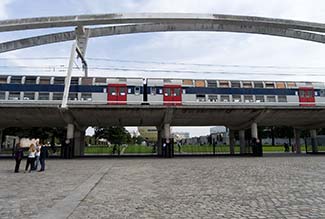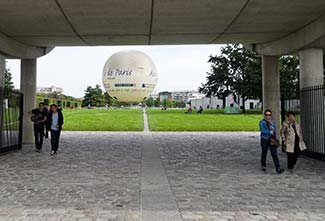 The RER Line C elevated train tracks, the Parc André Citroën, and the Ballon Air de Paris tethered sightseeing balloon were directly across from the pier.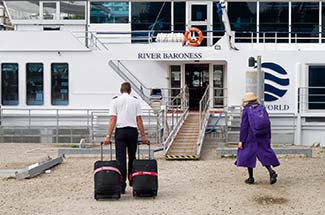 As we approached River Baroness, an officer came down the gangway to take our bags. We later learned that he was "Captain Dave," the second-ranking officer on the ship.
---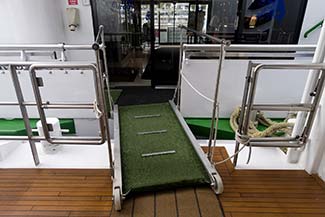 Just beyond the lobby of River Baroness, a shorter gangway led to our neighbor, Renoir. (Like sailboats and barges, river ships tie up next to each other when there isn't enough space on the pier for end-to-end mooring.)
---
---
---
---
"Best of the Web"
- Forbes and The Washington Post

Click or tap photos for cruise reviews:
---
Also see:

Venice for Cruisers
Getting to or from your ship, Venice hotels for cruisers, the Marittima and San Basilio piers, and more.

Rome for Cruisers
Trains to and from the port, plus a 35-page Civitavecchia city and port guide.
---
From Durant and Cheryl Imboden:

About Our Sites

Privacy and Cookies
---
Advertisement: