Holland America Line
ms Rotterdam Photo Gallery
From: ms Rotterdam Cruise Review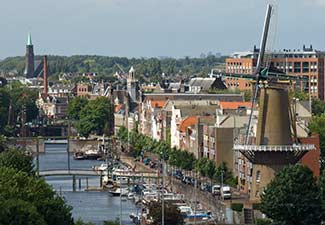 Rotterdam departure
Just down the river, ms Rotterdam cruised past the harbor of Delfshaven, which once served as the port for city of Delft.
On July 22, 1620, the Pilgrims sailed from Delfshaven on their way to the New World. Their ship, the Speedwell, soon began leaking, and they ended up transferring to the Mayflower in Plymouth, England before continuing their sea voyage to what is now Plymouth, Massachusetts.
Delfshaven was spared when the Germans bombed central Rotterdam early in World War II, so the harbor and the Pilgrim Fathers' Church (where the Pilgrims worshipped before departing for New England) still look much the same as they did nearly 400 years ago.
---