Silver Spirit Cruise Photos
From: Silver Spirit Cruise Review
Departure from Lisbon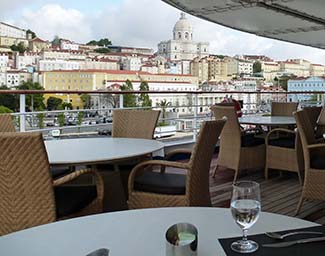 Day 2 of our cruise began with the Silver Spirit still docked at Lisbon's Terminal do Cruzeiros de Santa Apolónia. The temperature was a few degrees short of tropical, so we had the outside deck of La Terrazza almost to ourselves at breakfast.
---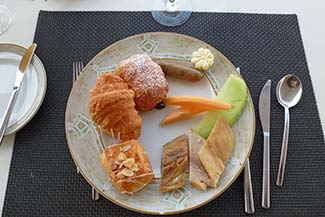 La Terrazza's buffet was a cornucopia of goodies, both healthy and non-healthy. On Durant's plate above, you can see a Danish pastry (excellent), butter and chocolate croissants (good), a breakfast sausage, fruit, smoked mackerel, and smoked trout.
The buffet also had eggs, pancakes, waffles, breads, several types of ham, bacon, smoked salmon, two types of herring, other kinds of fruit, nuts, cereals, and an assortment of gluten-free baked goods. If we'd wanted, we could have had omelettes, pancakes, or waffles made to order and brought to our table. (Cheryl had banana pancakes on another morning and gave them a thumbs-up rating.)
Our only disappointment was with the breads. They weren't very interesting, as you can see in this photo of Cheryl's plate: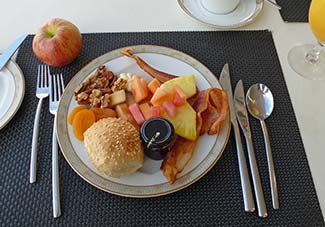 (We should concede that breads aren't always easy to make well on ships, although the bakers on S.S. France managed to produce superb petits pains back in the day.)
---
---
---
"Best of the Web"
- Forbes and The Washington Post

Click or tap photos for cruise reviews:
---
Also see:

Venice for Cruisers
Getting to or from your ship, Venice hotels for cruisers, the Marittima and San Basilio piers, and more.

Rome for Cruisers
Trains to and from the port, plus a 35-page Civitavecchia city and port guide.
---
From Durant and Cheryl Imboden:

About Our Sites

Privacy and Cookies
---
Advertisement: