Alkmaar Cheese Market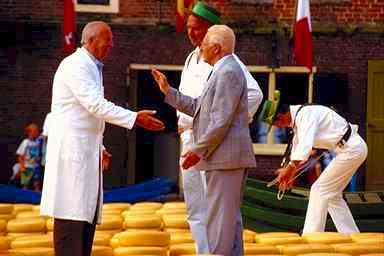 ABOVE: A cheese buyer and seller exchange a High Five.
General tourist information
VVV Alkmaar
The official Alkmaar tourism site has up-to-date visitor information, hotel packages, events listings, and more. When you're in Alkmaar, go to the tourist office at Waagplein 2 and book a walking tour for only two euros.
For information on other towns and sights "between Northsea and IJsselmeer," visit Peninsula Holland.
Museums and attractions
The Dutch Cheese Museum
The Alkmaar Weighhouse dates back to the 14th Century. Today it houses a museum of antique dairy equipment, along with displays that show traditional and modern cheesemaking techniques.
Alkmaar Municipal Museum
The town's historical museum is located in a 17th Century militia armory. Paintings make up the bulk of the collection, but the attic rooms show how Dutch children lived, learned, and played in 1900. (The Stedelijkmuseum is open year-round from Tuesday to Friday, 10 am - 5 pm and Saturday/Sunday from 1 pm - 5 pm.)
National Beer Museum "de Boom"
A former brewery houses this museum, where you can see exhibits about the history of beer and have a glass in the Proeflokaal
"De Boom". The museum is open Tuesday through Saturday from 1 - 4 pm; during the Cheese Market season, it opens early, at 10 a.m.
Dutch Stove Museum
Admission is cheap at the Kachelmuseum, which traces the history of "stoken en koken." The museum is open for only a few hours a week, and its own Web site was down the last time we checked, so ask at the tourist office before visiting.
Laurenskerk Organ
If you prefer church music to cheese, forget the Kaasmarkt: Alkmaar's renowned Hagerbeer/Schnitger organ in the Laurenskerk is the city's premier attraction, at least for visitors who enjoy world-class keyboard music. For more information on the church, visit the Dutch-language Grote Sint Laurenskerk Web site. Organ concerts usually take place on Fridays during the Cheese Market season.
Alkmaar Canal Cruises
Forty-minute boat tours depart from the Mient, near the Cheese Market, from April through October. The schedule depends on the season and weather, with hourly or half-hourly departures from 11 a.m. daily (May - September) or Monday through Saturday (April and October). Note: If the link doesn't work, try again later.
Shopping
Jos Steeman Alkmaar
After you've bought a pallet's worth of cheese or other goods, turn to this packing, shipping, and air-cargo company for help in getting your purchase home.
World Sex Guide: Alkmaar
And you thought there wasn't anything to buy in Alkmaar except cheese and candy.
If you're headed for Amsterdam, also see:
Amsterdam Web Guide europeforvisitors.com
Our 29-page Web guide has links to Amsterdam hotels, apartments, restaurants, museums, coffeehouses, entertainment listings, local transportation information, and more.
Back to: Alkmaar Cheese Market - Page 1
---
---