European ATMs and Currency-Exchange Machines
Page 2
Continued from page 1
By Durant Imboden
Currency-exchange machines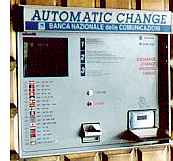 In airports, railroad stations, and other tourist gathering places, you'll often find machines that let you exchange foreign banknotes for local cash. These typically accept major Western European currencies along with U.S. dollars, Canadian dollars, and Japanese yen.
You'll pay a premium for the convenience of these machines (since the exchange rate isn't very good), but they're a handy way to unload cash from the last country you visited or to get a small amount of money in a country that you're passing through.
Related Web sites
Visa/Plus ATM Locator
Find automated teller machines in cities and airports around the world.
MasterCard/Cirrus ATM Locator
Search for cashpoints by address, by proximity to major landmarks and attractions, or in airports.
Back to: European ATMs and Exchange Machines - Page 1
---
---
"Best of the Web"
- Forbes and The Washington Post
---

Need a car in Europe?
If you live outside the EU, a tax-free tourist car lease can be cheaper than renting for visits of 21+ days. Other benefits:
Minimum driver age is 18.
No upper age limit.
100% insurance coverage.
Wide range of cars, vans, and SUVs.
To compare vehicles and rates, see:

Renault

Peugeot
For car rentals under 21 days:

Auto Europe
---
---
Traveling by train?
Get free schedules, maps, and guides for 50+ European railroads. (Residents of North and Central America can buy tickets and rail passes online.)

Rail Europe