Bergen, Norway
Web links - 1
Continued from page 2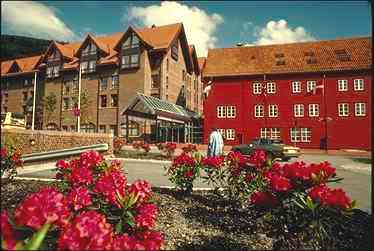 ABOVE: Royal Hotel Bergen.
General tourism
Visitbergen.com
The city's official tourism site may be hard to read in some browsers, but take a look.
The Bergen Guide
This commercial site is packed with useful details, including details on the Bergen Card and listings for hotels, guesthouses, campgrounds, and other accommodations.
Norwegian Mountains: The Seven Local Summits
Each spring, a mountain-biking club at the University of Bergen organizes a tour of seven peaks in the area. You can follow the club's route on your own biking or hiking excursions.
Hotels/restaurants/bars
Intermission
The 18th-Century hostel is open from mid-June to mid-August. (Another hostel is Montana, which is a bus ride away from the city center but stays open during winter.)
Norway Info: What's Cooking?
Norwegian cuisine could be summed up with the phrase, "If it swims, eat it," so Katrine Fjeldal's All about fish table is worth printing out so you won't lose your appetite in the translation.
---
---