Bergen, Norway
Practical info and sightseeing
Continued from page 1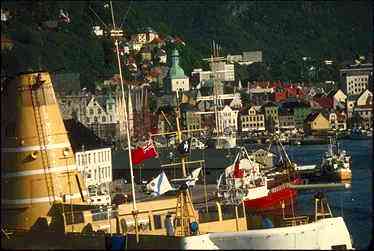 ABOVE: Night view of Bergen harbor.
Practical information
How to reach Bergen
By ferry. Fjord Line runs overnight passenger/car ferries from Newcastle, England to Bergen, with additional stops in Stavanger and Haugesund. If you're coming from Denmark, you can take the Fjord Line ferry from Hanstholm on Jutland's northwest coast. Smyril Line is another option during the summer season; it runs a service that connects Bergen with Denmark, Iceland, The Faroe Islands, and the Shetlands.
By train. The scenic train route between Oslo and Bergen is justifiably popular, and many tourists allow time for a side trip to Voss during the journey.
By air. Bergen has an international airport with flights to and from various European cities via Braathens, SAS, and other airlines.
By car. Norway has good roads, although those on the West coast are often narrow and interrupted by ferry crossings. For help in planning a driving tour of Norway, see the Norwegian Tourist Board Web site.
See this article's transportation links for more information.
Arriving in Bergen
From the airport: The SAS airport bus runs every 20 minutes, with stops at the Central Bus Station, the main hotel district (Hotel Norge), and Bryggen (SAS Royal Hotel). Fare is NOK 50 for adults and NOK 25 for children. Taxis cost five times as much, making them impractical unless you're traveling in a group or on an expense account.
From the railway and bus stations: Both of these stations are downtown, on the Strømgaten. If you aren't carrying a great deal of luggage, you can probably walk to your hotel; otherwise, local buses are an option.
By car: Don't arrive without a map, and ask your hotel about parking arrangements when you book a room. The best strategy for public parking is to find a garage and leave your car for the day. There's a public garage for 1,500 cars on the Vestre Strømquai; short-term parking is available at Citypark in the Markeveien and Parkeringhuset at Rosenkranzgaten.
Tourist information
The official Tourist Information Office is in Bryggen, behind the sailing ship (see the photo on page 1 of this article). It's open late into the evening during the summer. During high season, you'll find branch offices at the railway station and the international ferry terminal.
If your hotel doesn't supply you with the official Bergen Guide, pick up a copy at the tourist office. This pocket-sized book contains nearly 100 pages of maps, sightseeing information, business listings, tourist tips, and ads for everything from shops and restaurants to a plethora of guided sightseeing tours.
Sightseeing
The Bergen Guide and your favorite guidebook will supply details on sights like Bryggens Museum, the Hanseatic Museum, the Aquarium, the Fishing Museum, Gamlehaugen (King Harald's Bergen residence), Håkon's Hall, Troldhaugen (Edvard Grieg's home), the Marienkirke (Bergen's oldest building), and countless other attractions.
Be sure to allow time for the Fløibanen, a funicular that will take you to a spectacular view of the city in just 8 minutes from the city center, and the Ulriksbanen, an aerial cablecar that whisks you to the summit of a local mountain.
---
---