Family and Junior
Language Vacations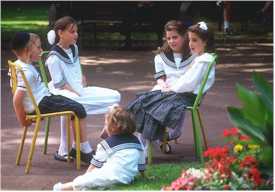 Above: After a week or two of studying French in France, your children could get acquainted with Gallic girls and boys like these.
Archived Article
Dateline: 2001
Are children keeping you from trying a language vacation, or from visiting Europe? There may be an easy solution: Take the kids along and let them learn a new language, too--or enroll them in a European language program while you enjoy La Dolce Vita with your spouse.
I asked Christine Coté of Language Studies Abroad to send me a list of LSA language schools with junior programs. She gave me two: a list of schools where parents and children could study a language at the same time during any session, and a list of schools that had "junior only" sessions. (There's some overlap between the lists, because a few schools go to into "junior only" mode for only part of the summer or year.)
1. Simultaneous adult and junior sessions:
Austria: Vienna*.
France: Antibes*, Nice.
Italy: Treviso.
Spain: Madrid*, Marbella*, Salamanca, Sevilla.
* Same school for adults and children, but different campuses.
2. "Junior only" sessions:
Austria: Vienna.
France: Antibes, Arcachon, Biarritz, Paris (Melun), Montpellier, Nice, Saint-Malo.
Germany: Berlin (Schmuckwitz), Munich (Grun & Passau).
Italy: Treviso, Lignano.
Spain: Madrid, Marbella, Salamanca, Sevilla.
Notes:
Age requirements for junior programs vary from school to school; most have a lower age limit of 8 or 10, with a maximum age of 16 or 18.
My daughter attended language camp for 10 years and loved it. (Since heading off to college, she has studied Norwegian in Norway and worked as a counselor in a Norwegian language camp.) If your children are intelligent and open to new experiences, attending a junior language program--whether abroad or at home--can be both academically worthwhile and great fun.
For more information on European lanuage schools and their junior programs, search Google for "language schools in Europe" or "language study abroad."
---
---
"Best of the Web"
- Forbes and The Washington Post
---
Our most popular topics:
---
---

Need a car in Europe?
Auto Europe guarantees the lowest rental rates for standard cars, sports cars, SUVs, luxury cars, chauffered sedans, and RVs. Its Web site also has driving information for 38 countries.

Auto Europe
If you live outside the EU, a tax-free Renault or Peugeot tourist lease can be cheaper than renting. Minimum driver age is 18, there' s no upper age limit, and rates include insurance.

Short-Term Car Leasing
---

Traveling by train?
Rail Europe has free schedules, maps, and guides for 50+ European railroads.

Rail Europe
---