Language Vacations in Europe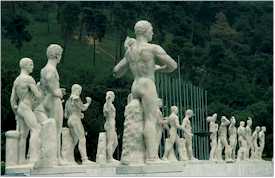 ABOVE: When in Rome, learn to speak as the Romans do.
When you travel abroad, do you make a point of carrying a phrase book and saying "Danke" for "thank you" or "s'il vous plait" for "please"? Have you ever taken an evening language class at your local high school or community college before setting out on a trip? Do you listen to Pimsleur or Berlitz language tapes before heading off to Continental Europe? If so, you may be a perfect candidate for a European language holiday.
A "language vacation" is just what the name would imply: a holiday where you learn to speak a foreign language on the spot. Typically, you spend part of your day in small classes taught by native speakers, then use your free time to practice what you've learned by interacting with local people. You get far more exposure to the language than you would at a class back home--and just as important, you feel involved with the local culture instead of being just another tourist with a phrase book.
Because the concept of language tourism isn't familiar to most English-speaking adults, I've prepared a FAQ ("Frequently Asked Questions") to help you decide whether an overseas language vacation is right for you:
Q. What are the entrance requirements?
None, except an interest in foreign languages and the money to pay for tuition, room, and board. Most language schools have classes for students at all levels, from beginners to advanced students who want to improve their vocabulary and conversational skills.
Note that we aren't discussing college summer programs or academic courses here--we're talking about private and non-profit schools that teach languages for self-improvement or professional purposes.
Q. Where are the schools located, and what are they like?
You'll find language schools all over Europe, in all kinds of places--from major cities to university towns to seaside resorts. Language vacations have popular with Europeans for several decades, so it isn't unusual to find Germans studying Spanish in Malagá or Norwegians learning French in Bordeaux.
Schools vary in size and atmosphere. A few, like the Alliance Française in Paris, may have have hundreds of students, scores of teachers, and a wide selection of courses. Others are quite small and cater to only a few dozen students at a time.
Next Page > Academic credit, age issues > Page 1, 2, 3
"Best of the Web"
- Forbes and The Washington Post
---
Our most popular topics:
---
---
See more, spend less:
---

Need a car in Europe?
Auto Europe guarantees the lowest rental rates for standard cars, sports cars, SUVs, luxury cars, chauffered sedans, and RVs. Its Web site also has driving information for 38 countries.
If you live outside the EU, a tax-free Renault or Peugeot tourist lease can be cheaper than renting. Minimum driver age is 18, there' s no upper age limit, and rates include insurance. See: Short-term car leasing.
---

Traveling by train?
Rail Europe
has free schedules, maps, and guides for 50+ European railroads.
---