Briggs & Riley Luggage Review
Page 3
Continued from page 2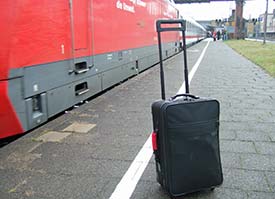 ABOVE: The Briggs & Riley Expandable Upright on a Deutsche Bahn station platform in Osnabrück, Germany.
Field reports
Switzerland
In October, 2005, I packed the Briggs & Riley upright for a trip to Zürich, Switzerland, which required a change of airlines in Chicago. The bag was easy to handle on my local bus and light-rail transit, and being able to lower the two-position handle made it easier to maneuver through O'Hare's crowded terminals. I checked the bag from O'Hare to Zürich, where I took a train into the city and easily rolled the bag across the Limmat River, tram tracks, and traffic islands to my hotel.
Over the next week and a half, I zigzagged through the country by train with the Briggs & Riley suitcase in tow. By the end of the trip, the bag was expanded and the bottom third of the suitcase was filled with press kits and books. Total weight was just shy of 44 pounds or 20 kg. I came to appreciate the "One-Touch" expansion feature: It made the bag much easier to handle when full, and it kept the suitcase from tipping over when parked.
Paris
In November and again in March of the following year, I packed the bag for trips to Paris, France.

The first journey involved two airplanes in each direction, a Roissybus into the city, an RER train out to Charles de Gaulle Airport at the end of the trip, and local commutes by Métro and on foot between public transportation and our rented apartment in the Marais.
I managed to avoid expanding the bag this time; instead, I packed it as full as I could in the normal position and trusted the zippers not to break. Again, the bag performed beautifully, and it was so well-balanced that it felt much lighter than the 33 pounds (15 kg) that registered on the Air France scale at the final check-in.
On the second trip, I flew into London, walked half an hour to my hotel, and took a high-speed Eurostar train the next day to the Gare du Nord in Paris. I then walked 15 or 20 minutes to a rented apartment in Montmartre. The bag was small enough to fit the Eurostar train's overhead rack, and it maneuvered well in the crowded streets of London and Paris.
Note: One wheel squealed noticeably in London, and I figured that I'd need to buy and snap in a new wheel when I got home. However, the noise went away after I cleaned grit out of the wheel (something that's easy to do with the Briggs & Riley user-replaceable wheel assemblies).
Germany

I've taken the Briggs & Riley upright on five trips to Germany. All have involved extensive train rides (some with several changes of train), multiple-leg flights, and a fair amount of walking--usually on cobblestones or concrete pavers.
Overall, the bag has held up well, even when loaded with books, press kits, and other heavy objects. An airline managed to rip one of the wheels from its moorings, but KLM's luggage-repair service picked up the bag, repaired it, and returned the suitcase to my hotel in les than eight hours.
Spain and Portugal

The bag's compact size, good balance, and expandability came in handy on three trips to the Iberian Peninsula in 2006 and 2008, when it was loaded up with everything from wine to PR materials. (I especially appreciated its maneuverability when I made several train changes on the Madrid Metro on my way from Barajas Airport to Madrid's city center.)
As of summer, 2010, the Briggs & Riley upright still looks almost new except for slight abrasion of the nylon fabric caused by airline baggage handling. I've encountered only minor problem: A couple of the One-Touch expansion mechanism's screws have worked loose over time (a problem easily fixed with a screwdriver).
Web link
Briggs & Riley
Click "Carry-on Wheeled Uprights" to find descriptions of current models. (Look for bags with the "One-Touch" expansion system.)
Related articles at Europe for Visitors
Packing for Europe
Happiness lies somewhere between a travel tote and a steamer trunk. My article has luggage tips with links to packing lists and other resources.
Packing Accessories
Organize your packables and protect your belongings with nylon-and-mesh cubes, security devices, luggage tags, and my own favorite item: a lightweight collapsible suitcase.
Back to: Briggs & Riley Luggage Review - Page 1
---
---