Bussaco (Buçaco), Portugal
Page 2
Continued from page 1
By Durant Imboden

Things to see:
Besides the Palace Hotel do Bussaco, with its wedding-cake architecture and formal gardens, the Buçaco Forest offers a variety of monuments and walks. High points include:
Cold Fountain. From a mountain spring, water bounces downhill over 144 steps in a cool, shaded forest setting. Follow the lakeside path to the Fern Alley. This will lead you past the Grottoes Gate via groves of cypresses and other exotic trees. At one point, you can head uphill to a scenic overlook at the Coimbra Gate (see photo) before heading back to the hotel through the Cedar Alley.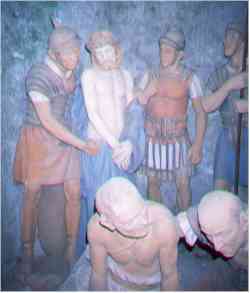 Way of the Cross. As you follow the stations of the cross up the hillside, you'll pass a series of large shrines containing life-size terracotta figures of Christ, his disciples, and other characters in the Crucifixion story. (See photo.) The hike terminates in the Cruz Alta, or High Cross, which offers views of the forested mountains and the Palace Hotel.
Carmelite Monastery. Most of the monastery was torn down during the construction of the royal summer palace, but a few portions remain--among them, a chapel (with innumerable photos of the religious faithful hoping for miracles) and several of the old monks' cells, which are lined with cork for insulation against the winter cold.
Museum of the Peninsular War. This small museum commemorates the Battle of Buçaco and other key battles during Napoleon's attempts to conquer Iberia and destroy the Portuguese alliance with Great Britain, which dates back to 1373.
Next page: Practical information for Bussaco
---
---
---