Bussaco (Buçaco, Portugal
Page 3
Continued from page 2
By Durant Imboden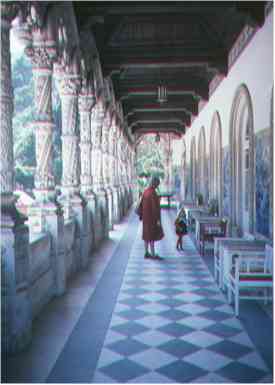 ABOVE: Veranda at the Palace Hotel do Bussaco. Note the Manueline columns of carved stone and the murals of azulejos (painted and glazed tiles) betwen the arched doorways in the photo.
Where to stay
If you can afford it, spend at least one night in the Palace Hotel do Bussaco (see previous page). Unlike most "palace hotels," this one was built as a royal palace--and it has a grandiosity, if not a grandeur, that combines Disneyland fantasy with Hollywood excess.
The hotel's rates are a bargain by the standards of the U.S. and Northern Europe. You'll like your accommodations, too: the rooms are mostly huge, with plenty of dark wood, chandeliers, old-fashioned bathroom fixtures, crenellated balconies, etc. to make you feel like a weekend guest at a stately home during the Edwardian era. (You may wish that you'd brought evening clothes so you could play dress-up in the ornate dining room, which serves Continental cuisine with puff pastry and flair.)
Other accommodations in the area are found at Luso (a couple of miles down the road) and the university city of Coimbra, about half an hour away by car.
Reaching Bussaco
The Bussaco National Forest is 28 km (17 miles) north of Coimbra. You can reach it via Penacova or Luso. Just consult your roadmap and watch the signs.
If you don't have a car, take the Coimbra-Viseu bus and get off at the Palace Hotel. A number of buses run each day, so you can easily spend a few hours exploring the forest and enjoying the views before returning to Coimbra or heading north.
---
"Best of the Web"
- Forbes and The Washington Post
---
Advertisement:
---

Need a car in Europe?
If you live outside the EU, a tax-free Renault or Peugeot tourist car lease can be cheaper than renting for visits of three weeks or longer. Minimum driver age is 18, there' s no upper age limit, and rates include insurance.
---
Auto Europe makes it easy to find the best car and motorhome rental rates in more than 20,000 locations.