Castles of Europe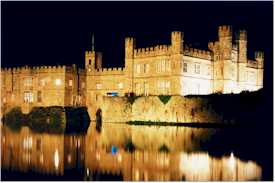 ABOVE: Leeds Castle in Kent, England.
By Durant Imboden
Europe has more historic castles than North America has White Castles or Burger Kings. For every World's Largest Rutabaga or Paul Bunyan statue in the United States and Canada, there are probably a dozen castles in Europe--many of which have been standing, in one form or another, for more than a thousand years.
Some castles are ruins; others are schools, youth hostels, or government buildings; still others are private homes; and many are open to the public as tourist attractions or hotels. In this article, we'll point you toward Web resources to help you plan castle visits during your next European trip.
On Page 2, you'll find background reading and a selection of articles about specific castles.
Page 3 has links to directories of castles throughout Europe.
Page 4 and Page 5 include links to individual castle Web sites by country.
Finally, Page 6 has resources to help you find castle hotels or rent a castle by the week.
Tip: The biggest and most famous castles can be overrun by tourists during the peak summer season, so don't feel guilty about skipping them and heading for lesser-known castles that the mass-market bus tours pass up. After all, the big-name castles will still be there on your next trip, which--with luck--you can schedule for May, early June, or September, when most castles are open to visitors but aren't unpleasantly crowded.
Next page: Castle articles
---
---
---
"Best of the Web"
- Forbes and The Washington Post
---
Advertisement:
---

Need a car in Europe?
If you live outside the EU, a tax-free Renault or Peugeot tourist car lease can be cheaper than renting for visits of three weeks or longer. Minimum driver age is 18, there' s no upper age limit, and rates include insurance.
---
Auto Europe makes it easy to find the best car and motorhome rental rates in more than 20,000 locations.