Faroe Islands
Page 2
Continued from page 1
By Durant Imboden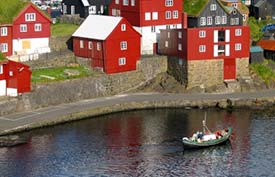 ABOVE: Houses and a traditional boat in the harbor of Tórshavn.
Sightseeing in the Faroes
The spectacular Faroese landscape is grassy and rocky, with few trees outside the capital of Tórshavn. It's also a bit eerie, thanks to the frequent mists that cling to the hills, peaks, and cliffs.
If it weren't for the fact that the locals speak Faroese (a dialect similar to Icelandic), one could easily imagine the islands as a setting for Brigadoon. And if a village did materialize for a day every 100 years like the town in the Broadway musical, its appearance might go unnoticed in the sparsely populated Faroes.
Popular sights include:
Tórshavn. The small capital of the Faroes has 14,000 residents, an appealing harbor, and a number of old buildings scattered about the town. The ruined fortress of Skansin is worth a visit, if only for the view of the harbor and neighboring islands.
Vestmanna bird cliffs. From the town of Vestmanna, about an hour by bus from Tórshavn, excursion boats sail through narrow channels to cliffs where you can see thousands of nesting sea birds. The boats also pass a seal grotto. The tour lasts 2-1/2 hours.
Kirkjubřur. This village lies 8 miles (13 km) south of Tórshavn. Its attractions include the ruined 13th-century Magnus Cathedral and a 900-year-old farmhouse with medieval furnishings.

Mykines. A footbridge leads from this tiny island to Mykineshólmur, an islet known for its thriving colony of puffins. Helicopters fly to Mykines from Vágar International Airport, or you can take the launch from Sřrvágar if the weather's decent and you aren't prone to seasickness.

Gjógv. Fresh air, the highest mountain in the Faroes, and a picturesque seaside location make Gjógv an enjoyable village to spend the night in. (Gjógv is about two hours from Tórshavn on the island of Eysturoy.) Climb the steps down to the sheltered harbor for small fishing boats, which lies between two cliffs.
You'll want to phone ahead for reservations at Gjógv's turf-roofed hostel, which has family rooms with private baths on the lower level and small dormitory lofts overlooking the traditionally furnished dining/common room on the main floor.
There are plenty of other islands and villages to see; use the tourism links in this article and a good guidebook to help you decide what should be on your itinerary.
Next page: Practical information
---
---
Top photo copyright © Atlantpic.
First inset photo copyright © Rico Christensen.
Second inset photo copyright © Christian Noval.