Faroe Islands
Page 4
Continued from page 3
By Durant Imboden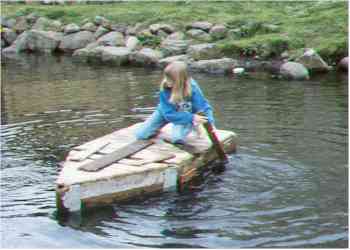 ABOVE: A young boater emulates the Vikings who sailed to the Faroes nearly 1200 years ago.
Accommodations
Tˇrshavn has a number of hotels and guesthouses, including:
Hotel F°royar
This four-star hotel is on the city's outskirts, so it's most useful if you have a car and don't plan to spend much time in Tˇrshavn itself. The hotel, which was designed to blend in with the adjacent hillside, has a nice view of the capital.
Hotel Hafnia
The four-star Hafnia has a modern, boxy appearance, but it's right in the center of town and is a good choice if you're well-heeled and insist on a private bath.
Seaman's Home (Tˇrshavnar Sjˇmansheim)
This is my own favorite. It's right next to the harbor, with the town hall's park on the opposite side and the main street of Tˇrshavn only a block away. Baths are down the hall, but the rooms are comfortable and clean, and rates are about half of what you'd pay at the Hafnia. A buffet breakfast is served in the dining room, where you're likely to hear U.S. country music on the radio while the morning prayer and hymn service is taking place in the next room. (If you don't like reed organs, plug your ears!)
Blßdřpi
A guesthouse, youth hostel, and apartment are scattered through three houses in the center of town. The same management operates the Scansin guesthouse, near the fortress and ferry landing, and offers several vacation apartments in Tˇrshavn.
Youth Hostel Kerjalon
Tˇrshavn's year-round hostel is located next to the Hotel F°royar, away from the town center. It accommodates 98 guests in 2- to 6-person rooms.
Warning: Not all villages in the Faroes have hotels or guesthouses, so it's wise to plan your overnight stops and phone ahead for reservations.
Restaurants
Food is expensive in the Faroes. You can load up on groceries in the supermarket at the SMS shopping center on R.C. Effers°esg°ta in Tˇrshavn, which also has several eating places that are reasonable by Faroese standards. Smaller grocery stores dot the city, and there's an excellent bakery on the Tˇrsg°ta north of the Seamen's Home.
For dining out, choices range from snack bars to the dining rooms at the hotels. The Seaman's Home has a cafeteria that serves home-style Faroese meals.
Full-service restaurants aren't common outside Tˇrshavn, although you'll find cafeterias and snack bars in the larger villages. Hotels and hostels around the islands serve meals, and you can buy food and non-alcoholic drinks from village grocers.
Laundry
The expensive Myntvask laundromat on J. Broncksg° (the street leading to the Skansin fort) is a tourist attraction in itself. It has the most complicated computerized washing equipment that you're likely to find anywhere. (When my wife visited Myntvask, she was fortunate to encounter a sailor who taught her how to operate the system.)
Shopping
Hand-knit Faroese sweaters are hard to resist, and they're worth every krˇna. Books and music recordings also make great souvenirs. (If you enjoy female singers, look for Ingun Simonsen's Eg Vil Liva and LÝv Dam's Eftir Regni­.)
If you buy videos, make sure the tapes are compatible with your VCR at home (e.g., NTSC format for the United States and Canada.
Collectible postage stamps are another Faroese specialty. For more information, see the Postverk F°roya's Faroese Stamps site.
Note: Purchases of more than FKR 300 are eligible for a refund of value-added tax through a "Tax Free for Tourists" scheme. (See my article on tax-free shopping.)
Next page: Transportation links
---
---