Faroe Islands
Page 6
Continued from page 5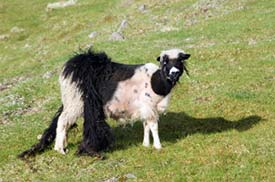 ABOVE: A black-and-white Faroese sheep sheds its wool in the summer.
Tourism and general links
Tourist information
Visitfaroeislands.com
This is the islands' official tourist site.

Framtak
Puffin cartoons, recorded phrases in Faroese, national statistics, and shopping (including Faroese soccer badges) are among the things you'll find here.
Background reading
The Faroe Islands - General Information
Details about the major islands, local bird life, Faroese history, and more.

Faroe Islands Flag
Give a salute to the red, white, and blue.
Photos
Faroe Islands Photographs
A dozen color and black-and-white photos from Framtak.
Weather/Climate
WeatherBase: Torshavn
Get month-by-month temperature and rainfall averages for the Faroese capital, in metric or Imperial units.

Accuweather Forecast
Check current weather conditions in Tórshavn and view a forecast in metric or Imperial measurements.
Whales
The Faroese are touchy on the subject of whaling. Citizens kill pilot whales with knives during traditional hunts along the shoreline, with the mercury- and PCB-tainted meat being distributed among members of the community. See Wikipedia's Whaling in the Faroe Islands article for more information and links to other resources.
Student information
University of the Faroe Islands
Nordic studies are a mainstay of the country's publicly funded university, which also offers summer language courses and travel scholarships.
Odds and ends
Faroese Stamps
Order postage stamps, look up addresses of post offices, or learn what it costs to send a postcard to the folks back home.

Back to: Faroe Islands - Introduction