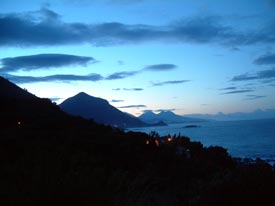 ABOVE: A twilight view from the Santavenere Hotel's arcaded terrace.
Booking information
To book a room via the Internet, visit the Mondo Maratea Web site or e-mail [email protected].
You can also contact the hotel at:
Santavenere Hotel
85046 Maratea Porto (PZ), Italy
Telephone +39 (0)973 876910
Fax +39 (0)973 877654
Related articles at Europe for Visitors
Maratea, Italy
Savvy Italians have long enjoyed this scenic resort on Basilicata's Tyrrhenian Coast, which is easy to reach from Naples by car or train.
Locanda delle Donne Monache
The nuns who once lived in this convent (now a four-star hotel) might turn redder than a martyr on a spit if they saw the sunken tub in Room 9's grotto bathroom.
---
---
---