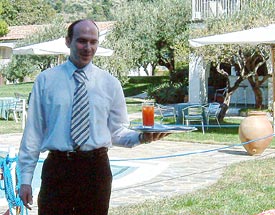 ABOVE: Nicola, the Santavenere Hotel's maitre d', is one of the nicest men you'll ever meet. When I complimented him on his sunny disposition, he replied: "I love what I do."
Dining
You won't find bland "Continental cuisine" in the Santavenere Hotel's dining room. On the contrary: The hotel's menus have been planned in consultation with leading chefs, restaurateurs, and wine experts as part of Mondo Maratea's oeno-gastronomy project, which also influences the cuisine at the Locanda delle Donne Monache in Maratea's historic center.
The Santavenere Hotel has two restaurants:
Ristorante Il Carrubo, on the rocky shore of Punta Santavenere below the hotel. This pleasant bar-restaurant has a sheltered terrace overlooking the sea. It's accessible via a easily negotiable footpath with railings, by chauffeured electric golf cart, or by a small boat from the Porto di Maratea during high season.
Breakfast is a treat at the Santavenere. The breakfast buffet has seasonal fresh fruits (including such exotica as tiny wild strawberries), breads, local hams and cheeses, cereals, yogurt, eggs, and homemade fruit preserves that put bottled jams to shame.
But the high point of the Santavenere's breakfast buffet is the mouthwatering selection of pastries. (Can pastry chefs be canonized? I'd worship in the Little Chapel of the Cream-Filled Cornetti any day.)
Instead of the limp apricot-filled croissants that most Italian hotels offer, the Santavenere has freshly made croissants with jam, cream, or chocolate fillings; cornets and rectangular pastries (my favorites) that are bursting with pastry cream; chocolate- or cream-filled doughnut balls; fresh sugar doughnuts; and even fruit tarts that look as if they belonged on a dessert tray. All are served warm from the oven, with the last batch arriving from the kitchen around 8:15 or 8:20 a.m.
Breakfast is also available in rooms, but--if you're a pastry aficionado--you're bound to prefer the buffet.
Lunch and dinner in the main dining room are leisurely meals, served by an attentive staff that will be happy to answer your questions about the hotel's regional specialties and wines. I'd suggest ordering the day's set menu, especially if it includes seafood. The Santavenere's chef is a genius with fish, and you won't go wrong if you trust his judgment and that of his brother, the sommelier.
The Santavenere's à la carte menu varies from year to year; during my visit in the fall of 2002, antipasti ranged from €11.40-15.50, pastas were mostly €12.20 or €13.20, main courses cost €20.00-35.00, and the average dessert was €10.00.
Page 5 - Fitness and recreation
---
---
---
"Best of the Web"
- Forbes and The Washington Post
---
Advertisement:
---
Our most popular topics:
---
Partner ad:
---
Need a car for a longer trip?
Short-term Car Leasing
If you live outside the EU, a tax-free Renault or Peugeot tourist car lease can be cheaper than renting for visits of 21+ days. Minimum driver age is 18, there' s no upper age limit, and rates include insurance.