Languages for Travelers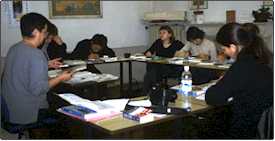 ABOVE: You don't have to attend a language school to communicate as a tourist, but it's a fun way to meet Europeans.
By Durant Imboden
Is it important to know the local language when traveling in Europe? Not necessarily. Travel writer Bill Bryson doesn't think so, according to this passage from his book Neither Here Nor There:
"When I told friends in London that I was going to travel around Europe and write a book about it, they said, 'Oh, you must speak a lot of languages.'

"'Why, no,' I would reply with a certain pride, 'only English,' and they would look at me as if I were foolish or crazy. But that's the glory of foreign travel, as far as I am concerned. I don't want to know what people are talking about. I can't think of anything that excites a greater sense of childlike wonder than to be in a country where you are ignorant of almost everything. Suddenly you are five years old again. You can't read anything, you have only the most rudimentary sense of how things work, you can't even reliably cross a street without endangering your life. Your whole existence becomes a series of interesting guesses."
Still, for most of us, a smattering of the local lingo makes travel easier. Being able to say "Thank you," "Excuse me," "That one, please," or "Where is the toilet?" is more convenient than relying on improvised sign language--at least for tourists who haven't been trained as mimes.
The key phrase here is "a smattering," a.k.a. "un soupçon" or "a little bit." You don't require a Ph.D. in French to buy croissants in Paris, and you needn't memorize the contents of a Langenscheidt German-English dictionary to rent a room in Berlin. With a vocabulary of even 100 words and the ability to string a rudimentary sentence together, you'll be able to communicate basic needs and courtesies while traveling.
Next Page > How to learn > Page 1, 2, 3, 4
---
---
"Best of the Web"
- Forbes and The Washington Post
---
Advertisement:
---
Our most popular topics:
---
Partner ad:
---
Need a car for a longer trip?
Short-term Car Leasing
If you live outside the EU, a tax-free Renault or Peugeot tourist car lease can be cheaper than renting for visits of 21+ days. Minimum driver age is 18, there' s no upper age limit, and rates include insurance.