Legoland, Denmark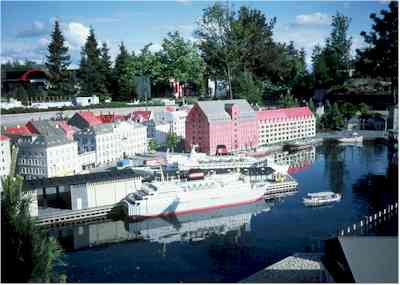 ABOVE: Copenhagen Harbor, reconstructed in Lego blocks at Legoland. (And yes, the boats move.)
By Durant Imboden
Only a grinch, a grump, or a Lego competitor could resist the lure of this pleasant theme park in Billund, Jutland. The park, which opened in opened in 1968, shows what can be accomplished when designers with imagination are given 33,000,000 Lego blocks to play with.
Legoland is a "must-see" attraction if you're visiting Denmark with children. The first time my family visited Legoland, our 4-year-old son darted about like an insect on amphetamines--he simply couldn't get enough of the railroad freight yard, ferry terminals, airport, and other working models in the "Miniland" section of the park. The second time we visited, when he was eight years old, the Lego Traffic School was the highlight of our son's Danish trip--especially when the instructor announced "Good job, Number 22" over the loudspeaker.
But you don't have to be a child to enjoy Legoland. It's an impressive sight for visitors of any age, with its Lego models of the Taj Mahal, Amalienborg Palace in Copenhagen, the Statue of Liberty, Mount Rushmore, and other monuments displayed in a garden setting.
The park is divided into five areas:
Miniland, my favorite part, which currently has models of Germany, the Netherlands, and Skagen, Denmark--including ships that sail down the Rhine, city traffic in Amsterdam, and Danish fishing boats.
Castleland, which offers a boat ride through Captain Roger's Pirate Caves and a Dragon Ride for thrill-minded medievalists.
Legoredo Town, with its mine train and corny (not to mention politically incorrect) Red Indian Camp.
Duplo Land, a mini-park for younger children. This section of the park also houses the Traffic School, where kids from ages 8 to 13 can learn to drive in Lego cars. (See photo on next page.) The driving course has intersections, traffic lights, and even a real grade crossing where the Lego Train speeds past. Best of all, graduates can receive an official Legoland driver's license for a small fee.
Indoor attractions
Legoland has several places where you can take shelter if it rains:
Titania's Palace, an 18-room doll house that took 15 years to build.
Antique dolls dating back to 1580.
Mechanical toy museum, with toys that you can activate with pushbuttons.
Lego exhibits and shop. (Unfortunately, the shop isn't a cheap factory outlet store.)
Lego playroom where you and your kids can build models out of Lego and Duplo blocks. Each day, Legoland judges select the best models and send prizes to the winners.
Practical information
---
---
"Best of the Web"
- Forbes and The Washington Post
---
Advertisement:
---
Our most popular topics:
---
Partner ad:
---
Need a car for a longer trip?
Short-term Car Leasing
If you live outside the EU, a tax-free Renault or Peugeot tourist car lease can be cheaper than renting for visits of 21+ days. Minimum driver age is 18, there' s no upper age limit, and rates include insurance.