Legoland, Denmark
Page 2
Continued from page 1
By Durant Imboden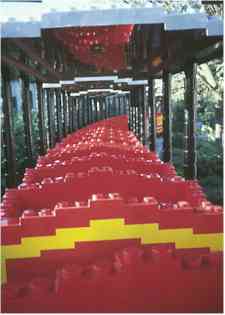 Right: Passenger's view of Legoland train.
Practical information
Legoland is open from late March through mid-fall, with the exact opening and closing dates varying from year to year.
Hours also vary according to the season, with some activities closing down two hours before the park locks its gates. (If you show up late in the evening, you can often just walk in and look around without buying a ticket.) Admission prices depend on your age and the time of year.
Food is available in the park, but most of it isn't very good. Stick to basic refreshments and save your appetite for dinner at a restaurant or cafeteria in Billund.
For up-to-date information, see the official Legoland Billund Web site.
Reaching Legoland
Legoland is in the middle of Jutland, about 45 minutes from the international ferry port of Esbjerg. The easiest way to get there is by car. It's also possible to take the train to Vejle and switch to a public bus for the 25-minute ride to Billund, although this can be tiring if you're returning to Esbjerg or Copenhagen after a long day.
If you don't have a car, consider the Danish Railways fare/ticket package from Copenhagen or the bus tour that's offered during the summer high season. A bus package is also available from Esbjerg. For current details, visit the tourist office or a travel agency in Copenhagen or Esbjerg.
Billund also has an international airport, and you can walk to the park from the arrivals terminal. (The Hotel Legoland, listed on the next page, has a free airport shuttle.)
---
---