Lisbon-Madrid Night Train
Page 2
Continued from page 1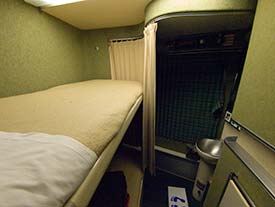 ABOVE: A First Class or "Preferente Clase" cabin with upper and lower berths.
Accommodations
The Lusitánia Comboio Trenhotel has several types of accommodations, including:
Second-class seats. These are popular with holders of Eurail and InterRail youth passes, who pay only a few euros for a seat reservation. If you crave sleep, you may need earplugs: passengers often bring guitars and sing or socialize well into the night.
First-class seats. For a modest reservation fee, holders of a first-class Eurail or InterRail pass can settle back in a reclining seat and pretend they're on an airliner.
Tourist. In this type of accommodation second-class passengers share four-berth compartments with washbasins that are segregated by sex.

First-class single or double. On my trip, I had one of these "Preferente Clase" cabins with an upper and lower berth. The small but comfortable stateroom had a stainless-steel sink plus a medicine cabinet with a bottle of drinking water, a towel, and an amenity kit. The communal WC was at the end of the sleeping car. (The bedding consisted of a foam mattress, sheets, small pillow, and woolen blanket; I had no trouble sleeping once I got used to the clackety-clack of the train.) The reservation fee included breakfast.
Luxury-class single or double. I saw one of these cabins but wasn't lucky enough to sleep in it. (There are only five on each train.) "Gran Clase" staterooms cost about 44 percent more than first-class cabins, but they have private sinks, showers, and WCs, and the reservation fee includes dinner with wine and breakfast.
Next page: Dining car
---
---
---