Lisbon-Madrid Night Train
Page 4
Continued from page 3
By Durant Imboden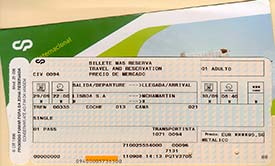 ABOVE: A reservation card and envelope from CP Portuguese Railways.
Tickets and reservations
When you travel on the Lusitánia Comboio Trenhotel, you'll need two documents:
A first- or second-class ticket or railpass for the trip between Lisbon and Madrid;

A reservation card for your assigned seat or sleeping compartment. (See photo above.)
You can buy tickets and obtain reservations from:
CP (Portuguese Railways);

Renfe (Spanish Railways);

Authorized travel agencies in Europe;

International ticket vendors such as Rail Europe.
Rail passes
If you're traveling extensively by train, consider a rail pass from InterRail (for residents of Europe) or Eurail (for travelers from outside Europe). Many different passes are available, including "Global Passes" that work throughout Europe and regional or single-country passes such as Eurail's Portugal-Spain pass and InterRail's Portugal and Spain passes.
With a rail pass, you won't need to buy a ticket between Lisbon and Madrid: You'll need only a seat or sleeping-car reservation, which you can obtain within a month of departure at a railroad station, an authorized travel agency in Europe, or an online ticket and railpass vendor such as Rail Europe.
For more information about the Lusitánia Comboio Trenhotel and rail passes, see:
Eurorailways: Lisbon to Madrid Hotel Train Lusitánia
CP Lusitánia hotel train timetable
Eurail (passes for travelers from outside Europe)
InterRail (passes for residents of Europe)
Back to: Lisbon-Madrid Night Train - Page 1
---
---
---