Museu do Oriente, Lisbon
Page 3
Continued from page 2
By Durant Imboden
More photos from the Museo do Oriente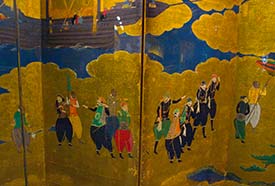 Portugal began trading with Japan soon after its explorers arrived in 1543. (See Wikipedia's Nanban trade article.) This gilded screen at the Museu do Oriente portrays a ship, Portuguese traders, and Japanese dignitaries.
You can view a larger, 800-pixel-wide version of this image (79K) by clicking here.
---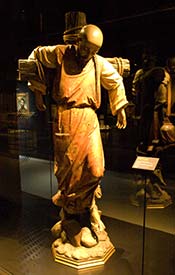 In Japan and China, Christian symbols took on a local flavor during the Portuguese missionary era.
---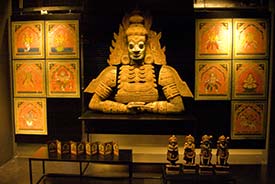 These wooden sculptures from Southern India are in the Museu do Oriente's permanent "Gods of Asia" exhibition.
---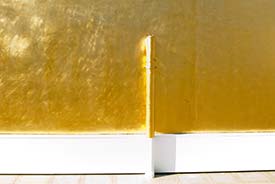 The terrace outside the Museu do Oriente's top-floor restaurant has an eye-catching feature: a long section of building wall covered in gold leaf.
Back to: Museu do Oriente - Introduction
---
---
---
"Best of the Web"
- Forbes and The Washington Post
---

Need a car in Europe?
If you live outside the EU, a tax-free tourist car lease can be cheaper than renting for visits of 21+ days. Other benefits:
Minimum driver age is 18.
No upper age limit.
100% insurance coverage.
Wide range of cars, vans, and SUVs.
To compare vehicles and rates, see:

Renault

Peugeot
For car rentals under 21 days:

Auto Europe
---
---
Traveling by train?
Get free schedules, maps, and guides for 50+ European railroads. (Residents of North and Central America can buy tickets and rail passes online.)

Rail Europe