European Rail Passes
Page 2
Continued from page 1
By Durant Imboden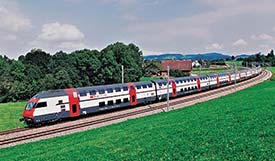 ABOVE: A double-deck intercity train in Switzerland.
National rail passes
If you're traveling within one or two countries--or if you're visiting the UK, which doesn't participate in Eurailpass--you'll want to buy rail pass for the individual countries that you're visiting. Such passes are cheaper than Eurailpass, and they may offer more freebies or discounts. (In Switzerland, for example, you'll get substantial discounts on mountain-railroad and cablecar fares with the Swiss Pass.)
National rail passes have another advantage over European rail passes: They're available in second-class versions for travelers of any age. This is an advantage if you're on a budget, or if you'd rather travel with rank-and-file Europeans instead of business travelers and Eurailpass tourists from back home.
For details on national rail passes, see Rail Europe.
Rail/drive passes
Eurailpass and many national railroads offer a variety of rail/drive plans that combine rail travel with "car days" for local sightseeing. These are worth investigating when you want to explore rural areas that aren't easy to reach by train and bus.
Point-to-point tickets
Are you planning to spend most of your time in a few cities? Point-to-point rail tickets may be cheaper than rail passes, especially if distances are short. And if you're worried about your ability to deal with railroad clerks who don't speak English, never fear: you can order tickets from Rail Europe or buy them at European travel agencies where English is spoken.
Tip: When buying point-to-point tickets, you're likely to find the best deals from national railway sites, though Rail Europe tends to be more convenient (and may present fewer language problems) if you live outside of Europe.
Related Web sites
For more information on European rail passes and timetables, or to order passes and tickets online, see the next page.
---
---
---
Photo copyright © Rail Europe.