Short-Term Car Leasing in Europe
Page 3
Continued from page 2

ABOVE: The Peugeot 207 is compact and economical. INSET BELOW: A Renault Kangoo.
Related Web sites
Renault Eurodrive our partner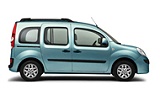 Renault has a long history of short-term car leasing to travelers from outside the EU. The company offers a large selection of vehicles, ranging from the ultra-economical Twingo to 5-, 7-, and 9-seat vans. Two of the more fun models in the fleet are the roomy but fuel-efficient Kangoo (a vehicle that combines the best features of a car, a station wagon, and a van) and the Megane convertible.
Minimum lease period: 21 days *
Peugeot Open Europe "Buy Back" Program our partner
In North America, Peugeot is represented by Auto Europe. (If you click on the link above, you'll be taken to the Peugeot Open Europe page at Auto Europe's Web site.) Peugeot's car models range from econocars to luxury sedans and the Peugeot Partner, which squeezes a lot of interior space into a boxy SUV-like body.
Minimum lease period: 21 days *
* Pricing is based on a minimum of 21 days, but you can return the vehicle in as little as 17 days if you're unable to spend a full three weeks in Europe.
Also see:
Car Rentals: When to rent, when to lease europeforvisitors.com
Use our comparison chart to determine whether you can--or should--choose a short-term tourist lease over a traditonal car rental.
Driving in Europe europeforvisitors.com
This Europe for Visitors article has links to articles on driving in Europe, rental-car insurance, how to obtain an International Driving Permit, information on European traffic laws, and more.
Back to: Short-Term Car Leasing in Europe
---
---
---
Photo © www.media.renault.com.Photo © www.media.renault.com.