Sintra's Pena Palace
Page 3
Continued from page 2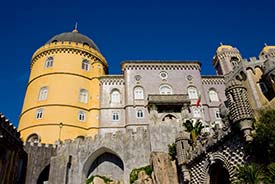 ABOVE: A massive entrance gate (lower right portion of photo) leads into the palace.
Related Web links
Parques de Sintra
Click "Park and Palace of Pena" for current opening times, ticket prices, guided tours, etc. in English. The Pena section also has virtual visits of the parque and palace.
Wikipedia: Pena National Palace
This illustrated article is fairly short, but it has photos and a history of the place.
Cámara Municipal de Sintra
The town's official Web site has information on things to see and do in Sintra, including the palace and park of Pena. (If the Union Jack icon doesn't take you to the site's English pages, you can translate with Google.)
UNESCO World Heritage: Cultural Landscape of Sintra
This site's content is a bit skimpy, but the link to an Ourplace photo slide show is worth a click.
Next page: More photos
---
---
---