Z-CoiL Shoes
Page 2
Continued from page 1
By Durant Imboden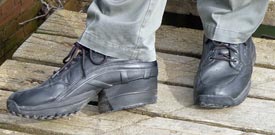 ABOVE: Z-Coil shoes on the bridge between Mazzorbo and Burano, two islands near Venice, Italy.
Z-CoiL field testing
I bought a pair of black leather Z-CoiL Cloudwalker shoes (currently called the "Z-Walker") for US $170 back in 2003 after my wife, who suffered from plantar fasciitis, was referred to a specialty shoe shop in Minneapolis, Minnesota by her doctor. (I started off with open-coil heels but later had them replaced with enclosed heels, which felt less bouncy and looked more dressy than the exposed-coil heels. It took only a couple of minutes to replace the heels, which were attached by Phillips-head screws beneath the insole.)
The Z-CoiL shoes performed well around town, but their real test came during a seven-day cruise on Peter Deilmann's MS Casanova, which spent most of the week in Venice. I walked hours every day in the Z-CoiL shoes, trudging through stone-paved alleys, climbing over bridges, and ascending the bell tower on Torcello with unprecedented freedom from sore feet or ankle pain. The shoes even had great traction on wet paving stones (which were frequently covered with a sheen of canal water from acqua alta flooding) and on the ship's stainless-steel gangway when it rained. Since then, I've worn the shoes on many other walking-intensive trips with good results, and although I've replaced the heels a couple of times, the uppers showed no signs of wear until I'd owned the shoes and worn them regularly for about five years.
My wife, who started off with the women's Sidewinder Sandal, reported a complete absence of foot pain during two days of heavy-duty sightseeing in New York, despite previous bouts of plantar fasciitis. She prefers the open-coil heels, and she wears the sandals almost daily for working and walking in our city neighborhood when the weather is decent. (She's since bought two pairs of Z-CoiLs in other styles.)

Update 1: After buying my original Z-CoiLs, I bought a pair of High Desert Hiker boots (with enclosed heels rather than the standard open heels) for a walking trip in Ireland. The boots were especially comfortable when jumping from stone to stone or walking downhill on rocky paths, since the heels absorbed shocks that otherwise would have battered my ankles and knees.
I encountered only one problem: A part broke inside the left heel, causing the heel to loosen every day or two. Fortunately, I was able to tighten the heels quickly and easily with a borrowed screwdriver, but from now on I'll pack a Phillips-head screwdriver in my checked luggage when traveling with Z-CoiLs.
Another minor caveat: Z-CoiL shoes will set off alarms when you go through metal detectors at airports, so be prepared to take them off or be frisked. (Packing the shoes is another option, unless you're traveling with a small suitcase.)
Update 2: I've since bought another pair of Z-CoiLs (a men's dress-shoe model), again with the enclosed heels. They've performed well on a number of European trips, and they're now my preferred shoes for urban travel.
How to shop for Z-Coil Shoes:
Next, use Z-CoiL's "Store Locator" page to find a dealer in the U.S., Canada, or Mexico. (Unfortunately, the company doesn't yet have dealers outside North America.)
I'd recommend buying the shoes in person--not by by mail order-- because the shoes may require adjustments for the best possible match with your feet, body weight, and personal preferences. (My wife and I both returned to the store for adjustments--in my wife's case, to replace a coil that had a slightly different stiffness than the coil on the other shoe.) Also, some people may not feel comfortable or secure in spring-heeled shoes or sandals.
Finally, I'd suggest choosing the enclosed heel if you're at all self-conscious, because the open coils invite questions and comments from strangers. (For that matter, the enclosed heels elicited a question of "Are they comfortable?" from an X-ray screener at my local airport.)
Overall verdict:
Z-CoiL shoes are the best shoes I've ever worn for heavy-duty urban walking and sightseeing. They're even more comfortable than the Birkenstock shoes that were my standard travel footwear for the previous 15 years. If you do a lot of walking, try a pair the next time you're in a city with a Z-CoiL dealer.
---
---
"Best of the Web"
- Forbes and The Washington Post
---
Advertisement:
---
Our most popular topics:
---
Partner ad:
---
Need a car for a longer trip?
Short-term Car Leasing
If you live outside the EU, a tax-free Renault or Peugeot tourist car lease can be cheaper than renting for visits of 21+ days. Minimum driver age is 18, there' s no upper age limit, and rates include insurance.