Santiago de Compostela
Page 8
Continued from page 7
By Durant Imboden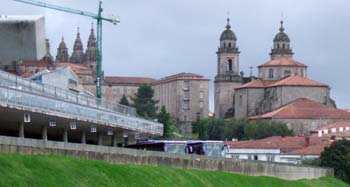 ABOVE: Tour buses park below street grade just outside the historic center.
Tourist information
The Galician Tourist Office, or Turgalicia, is the official online travel resource for Santiago de Compostela. In the city, the main tourist office is at the Rúa do Vilar 30, with small offices at several other locations. (When you visit, be sure to pick up the free English-language guide leaflet to Santiago de Compostela, a city map, and other useful Turgalicia publications.)
For general information about the city, read Wikipedia's article.
Finally, see the Santiago de Compostela links that accompany my book review of The Pilgrimage Road to Santiago.
Next page: Santiago de Compostela Cathedral photos
---
---
---