Vennerbo - Sigtuna, Sweden
Page 3
Continued from page 2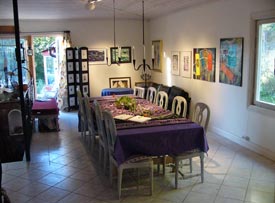 ABOVE: A common room in the main house does double duty as a breakfast and dining room for family reunions and other groups.
Groups
Vennerbo is popular with small groups, including family reunions. The Sörvings can provide group breakfasts and other meals in the main house's common room. (Locals sometimes use Vennerbo for small wedding receptions.)
Practical information
Vennerbo is 3 km or 2 miles from Sigtuna on local highway 263, which continues north from the Uppsalavägen road from the center of town. The same highway runs east from Sigtuna to the town of Arlanda, where highway 273 will take you the last few kilometers to Arlanda Airport. (You can pick up a free visitors' map called Besökskartan Sigtuna Arlanda at the Sigtuna Tourist Office in the town center.)
Web links
Vennerbo
The Sörvings' Web site has an English-language page, but take time to browse through the photos on the Swedish pages. (Also see page 4 of this article for more pictures of Vennerbo.
Sigtuna Turism
You'll find plenty of English information on the local tourist office's Web site.
Next page: More Vennerbo photos
---
---
---